A Homegrown Taste of Summer
By Amanda McDanel –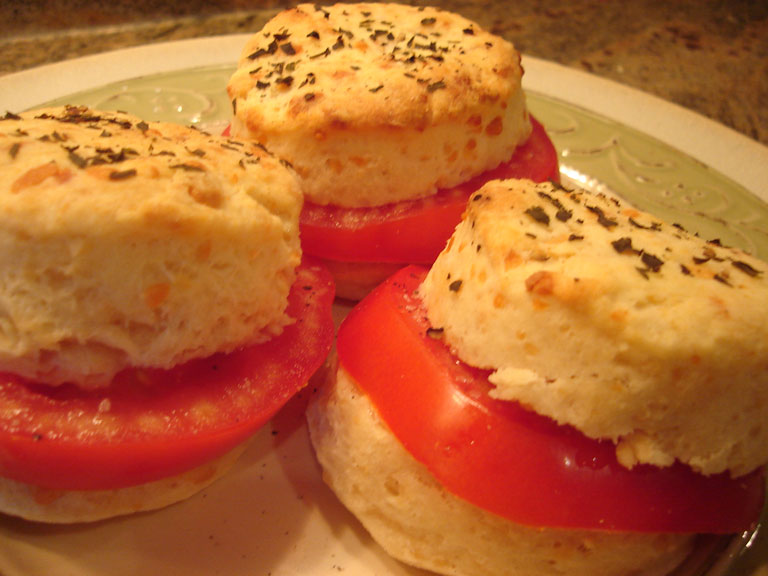 My grandpa always smelled like tomatoes. Not the fruit itself, but the green herbaceous leaf and it is in fact, one of my favorite scents. I even have a perfume called Tomato Leaf that I wear and think of him.
He would gather up the tomatoes from the garden and bring them to the kitchen just as my grandma would pull out a pan of hot biscuits. After putting a dot of cold butter on that hot biscuit, she would slice the tomato, add salt and pepper and sandwich it between the two halves. It tasted like summer—of hot days, warm soil, my grandmother's hands from kneading the tender dough, my grandpa's dirty coveralls from tending the garden, of plastic swimming pools and suntan lotion, naps in wet bathing suits and endless fields of grass and dandelions. The juice would drip down my chin and I would slurp it up trying to capture the pure deliciousness of it all.
A tomato biscuit seems like such a banal food—but with it are memories that fill me with joy. If it is done right, there is no other food in the world that is so simply delicious.  It must have been a regional delicacy, because I could walk into any gas station where I grew up and order a tomato biscuit only to be delivered with a perfect specimen every time. Yet, years later while traveling as an older teenager, I distinctly remember the first time I was met with incredulous looks when ordering a tomato biscuit at a gas station. "You know, a butter biscuit with tomato and salt and pepper?" "You want that on top of the ham and mayo?"  Sigh. It was there that the word "homegrown" became apparent to me.
I can bet your Grandma never went to culinary school. Mine neither. Yet, when you sat down at her supper table and drank in the bounty before you, you certainly felt like you were being treated to a feast. Not necessarily fancy, or involving a multitude of ingredients—often its simplicity is what made it inherently taste so amazing; but it was prepared, and often grown, by a real person and served up with a side of love. That in its essence is the definition of homegrown.
With that perspective, the Art Nouveau of the food movement isn't really that new at all. It's actually retro—about recreating your grandma's cuisine if you will. Foods just like your grandma would make, or your mom would call, "Company Supper." You know, the kind that shows somebody went to trouble.  The key here being—somebody—a real person, versus a fabricated Colonel or par baked frozen bread being touted as "fresh."  When you find an actual restaurant that is able to replicate that, you have hit the culinary jackpot.
While I could give you the recipe for a tomato biscuit, it truly is no recipe at all, so I will treat you to her glamorous grown up sister—the Garden Club. As a broke graduate student in Athens, Georgia, I discovered this culinary jackpot in Five Star Day Café. Everything was home cooked—from the mac & cheese to the meatloaf and hoppin' john to the Kool-Aid du jour—and it was student-wallet friendly. The Garden Club and the Kool-Aid were my standards, as they always tasted like home. Because it does not matter where it was homegrown, as long as it is made with love—it will always take you back.
[box] Garden Club
1 medium zucchini, trimmed and cut lengthwise into 6 slices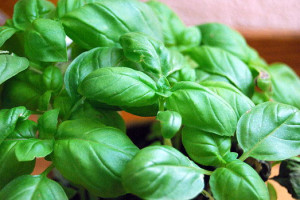 4 teaspoons extra-virgin olive oil, divided
1 garlic clove, minced
1 1/2 teaspoons balsamic vinegar
1/8 teaspoon kosher salt 1/8 teaspoon
black pepper
4 (2-ounce) ciabatta rolls, split and toasted
8 large fresh basil leaves
1 medium tomato, thinly sliced
6 ounces fresh mozzarella cheese, thinly sliced
1. Heat a large grill pan over medium-high heat. Place zucchini in a shallow dish. Add 2 teaspoons oil and garlic; toss to coat. Arrange zucchini in grill pan; cook 2 minutes on each side or until grill marks appear. Cut each zucchini piece in half crosswise. Return zucchini to shallow dish. Drizzle with vinegar. Sprinkle with salt and black pepper.
2. Brush bottom halves of rolls with the remaining 2 teaspoons oil. Top evenly with zucchini, basil, tomatoes, and mozzarella.
3. Brush cut side of roll tops with remaining liquid from shallow dish, and place on sandwiches. Heat the sandwiches in pan until warm.[/box]