A Day In The Life of an Outer Banks Dolphin
By Jessica Taylor –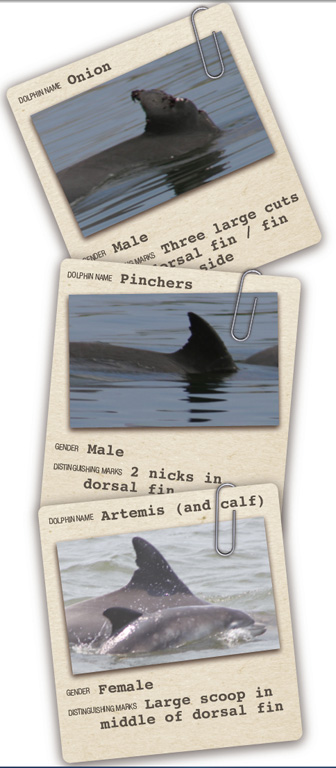 After five years of studying bottlenose dolphins in the Outer Banks, I have learned that many of their behaviors are as complex and meaningful as those of humans. Observing a female feeding with her young calf in the sound, her behavior seems similar to our behavior and is consistent with what has been observed of dolphin behavior around the world.
Splash! "Emma, will you please stop playing with your food," mother dolphin Artemis whistles to her one year old calf. "If you're going to be living on your own in two years, then you need to pay attention." 
Artemis is a female bottlenose dolphin that has been observed in the Outer Banks since 1997. She is recognizable by a large scoop in the middle of her dorsal fin. Having given birth to a new calf last July, she is focused on teaching her young calf how to catch fish.
Artemis and her calf, as well as many mother/calf pairs, are frequently seen in Roanoke Sound. The sound's seagrass habitat is abundant in dolphin prey such as croaker and spot, and because there are no sharks it is much safer than the ocean.
Calves typically become independent from their mothers between the ages of 3-6, and Artemis, as any good mother would, invests much of her time in teaching her calf the skills necessary to survive on her own.
The strong bond that calves share with their mothers until reaching independence also provides calves with protection and the opportunity to socialize. Many females and their calves spend time in nursery groups. It is possible that Emma is having difficulty focusing on feeding—their morning was spent in a nursery group with another female dolphin, Lorna, and her one year old calf. After playing, Emma's attention span may have become short.
While observing Artemis and Emma in the seagrass, I see two male dolphins, Onion and Pinchers, join the group. Onion and Pinchers are easily identified by the markings on their dorsal fins. The 3 large cuts in Onion's curved, bent over dorsal fin have made him the most well-known dolphin in the Outer Banks. Pinchers is named for the two nicks in his fin, reminiscent of a crab's pinchers.
Despite the lack of a hydrophone to listen underwater, I imagine I can hear Emma sound her newly developed signature whistle upon recognizing the approaching males. In response, Onion and Pinchers would each sound their signature whistles.
A signature whistle is unique to each dolphin, just as every person has their own name. Emma's whistle would sound different from her mother's whistle as female calves are known to develop whistles very distinct from their mothers. It is likely that Onion's and Pincher's whistles sound alike. As male pairs, Onion and Pinchers consistently spend time hunting and traveling together. The whistles of such long-term male pairs have been known to converge until they sound similar.
Although males do not usually spend time with females and their calves, Onion, Pinchers, and Artemis have journeyed together between Nags Head and Beaufort, NC, for more than 14 years; they are frequently seen together in the sound and have likely grown accustomed to spending time with each other.
A long-term study of bottlenose dolphins in the Outer Banks (initiated by the Nags Head Dolphin Watch and continued by the Outer Banks Center for Dolphin Research) has shown Onion, Pinchers, and Artemis to be members of a seasonally resident population that spends their summers in the Outer Banks and winters in Beaufort.
As I continue to observe Onion, Pinchers, Artemis, and Emma together, I imagine their recent journey from Beaufort—a dangerous trip that might include a close brush with a hungry shark.
A more dangerous threat may be waiting them, however: pollution. Many dolphins consume toxins through eating fish. Over time, dolphins store these toxins in their blubber which may result in poor health and lower reproductive success. This is one of the reasons that dolphins are such important indicators of environmental health.
Much of what we have learned about dolphin behavior in the Outer Banks sounds comes from the observations of The Outer Banks Center for Dolphin Research (OBXCDR), a local volunteer-based 501 c(3) non-profit organization that monitors the movement patterns, population size and behaviors of bottlenose dolphins in the Outer Banks. A research technique, known as photo-identification, is used to track dolphins over time by photographing the unique markings on their dorsal fins. Photo-identification research is used to promote dolphin conservation and outreach efforts in the Outer Banks. Volunteers participate in boat-based research surveys and outreach programs.
More information about the OBXCDR and how to support Outer Banks dolphin conservation can be found at obxdolphins.org.