10th Annual Charity Classic Tennis Tournament a Resounding Success
By Kip Tabb –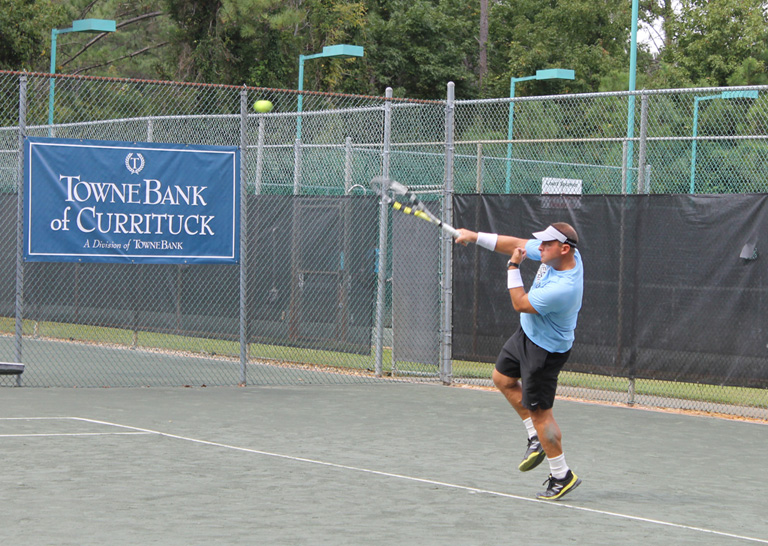 We often lose sight of how extraordinary the Outer Banks community is; we take for granted many of the things other communities rarely experience. And so it is with how we give back to our own.
The Outer Banks Charity Classic Tennis Tournament, held this past weekend, began life 10 years ago as a fundraiser for Dare County Hospice. Jim Groff had lost his wife to cancer a few years earlier and, although remarried, he and his new wife, Betts, felt hospice was a service that communities should support.
According to Ellie Ward, Nursing Director for Dare County Home and Hospice, that first tournament raised $1500. Ten years later, in 2912, the tournament put over $27,000 into the Dare County's Hospice program and that doesn't include the funds from the Saturday night auction.
After ten years of chairing the tournament committee, Jim Groff is stepping down. In his remarks, Jim painted a wonderful picture of how a community comes together to create an event this large and this successful. "I told the committee this is going to be the biggest tournament we ever had," he said. "And they just smiled and said, 'We'll take care of it.'"
Looking over the sponsors for the event—and there were over 100—shows a remarkable cross-section of the Outer Banks community. Large businesses, small businesses, individual donors, the sense that caring for the people and families most in need in our community is an important part of who and what we are, can be clearly seen.
What is perhaps most telling is how much fun the event is. It is a weekend (now a long weekend) of tennis, a cocktail party and dinner . . .  and it is a great time.
At the heart of the tournament is the tennis, of course, and four area clubs have stepped forward to host the event. With 76 teams and 152 players registered, all the court time that could be found was needed.
The four tennis clubs that offered their courts for the tournament were the Westside Athletic Club at Kilmalic, Duck Woods Country Club, Pine Island and Corolla Light.
Westside Athletic and Duck Woods were the hosting clubs for the event.
Competition began on Thursday with finals on Sunday. Final results have not been posted Sunday evening as this story was being written.